Back
Storage Unit Size Guide
What Size Storage Unit Do I Need?
Deciding on the right size storage unit can be tricky. Trying to map out how your stylish looking living room will look in a boxed out storage unit can leave you feeling confused, and the last thing you want is to overpay for storage size you don't need, or indeed underpay and end up without enough storage space for your household items.
Luckily, Caledonia Removals can offer a range of storage units to suit your storage needs. Whether you're storing all your furniture from a large three-bedroom house or just a few personal belongings that need safekeeping, we can provide you with the ideal solution for all of your storage needs.
In this article, we'll talk you through our various self-storage options and give you a comprehensive guide on how to choose the best storage unit size for you.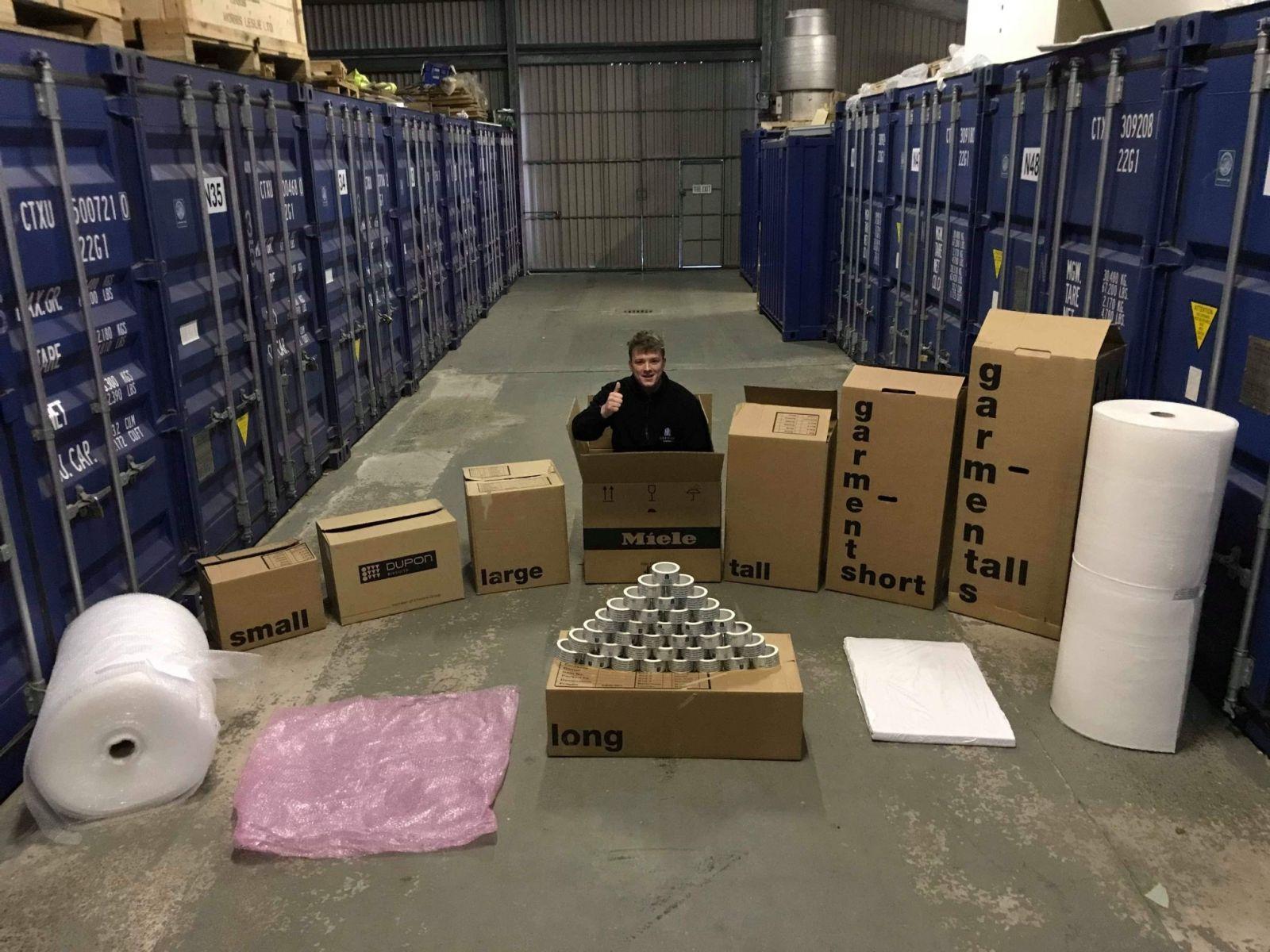 What are the typical sizes of storage units?
If you're wondering what size storage unit you need, it's important to understand that storage units can vary drastically in size. From small storage lockers that will only hold a few boxes of important items, to 150 sq ft self-storage units that could comfortably handle all the large items and furniture of a three-bedroom house.
Before going into further detail, a simple rule that can help you to calculate storage space quickly is to think of a one-bedroom house needing approximately 50 sq ft of storage size.
For every additional bedroom, add another 30-50 sq ft.
In this way, you can quickly get an estimate for your own house or office, but it's always worth speaking to an expert to get a more accurate reading of space.
Understanding the capacity of each unit size is essential for planning out your move properly, so we've put together a helpful self-storage size guide and given real-life comparisons on each one to help you map out how much storage space you will need.
Storage Lockers
Storage lockers are the smallest unit on offer when it comes to self-storage units. At roughly ten sq ft, these lockers are a great option if you only need to store a few boxes or a couple of medium-sized household items.
Our lockers are particularly popular with students who may wish to store some of their belongings over the summer or during term time if they find their student room overflowing. Our secure lockers can suitably handle a small TV or computer monitor, a few rucksacks and a couple of boxes, so even though they're limited in space, they can certainly get the job done!
25 sq ft storage units
Our 25 sq ft self-storage units can be compared to a telephone box or a small garden shed and are a good choice if you are moving out of a small apartment or perhaps a studio flat. On average, you could store around 40 medium-sized boxes in this size of self-storage unit, or half that amount and throw in a few pieces of furniture.
If your house is overflowing with clothes and items that you're just not sure what to do with, this unit could be just the ticket for you.
35 sq ft storage units
Moving up to our mid-range 35 sq ft storage unit allows you to comfortably store around 60 boxes of household items.
Often compared to the size of a small van or an average garden shed, this self-storage unit could be a great option if you are moving flat and don't have a considerable amount of furniture to store.
These self-storage units are also a popular choice for business needs. If you have many files that need safekeeping or are a workman looking for extra space to store tools, this unit could be a cost-effective and convenient choice for you.
If this sounds like the type of size storage unit that you are after, then get in touch for a free no obligations quote today.
50 sq ft storage units
50 sq ft is the minimum size we would recommend if you are moving house and need to store a large proportion of your furniture and items. A unit of this size would work best for a one-bedroom house or flat move, with additional space available for any large pieces of furniture to go alongside your boxes of clothes and items.
Our 50 sq ft units are roughly the same size as a regular garage and are a comfortable choice for moves between rented accommodation or small office transitions.
75 sq ft storage units
A 75 sq ft unit is a popular choice for those moving from a one-two bedroom house. If you need a secure space to store all your items whilst the move is ongoing, or if your current house is undergoing renovation and you need a safe unit to store large items and furniture, a 75 sq ft unit would work perfectly for you.
These self-storage units could comfortably fit the contents of a larger transit van, with room left for extra additions such as sofas, chairs or desks.
100 sq ft storage units
Moving into the upper ranges of storage units, a 100 sq ft storage unit gives you space similar to a large single garage. Often these units are used for just that, a replacement garage for everything that might be overflowing in your actual house. They can also handle a two-bedroom house move comfortably and possibly handle a three-bedroom house if your furniture is not particularly large or bulky.
When it comes to packing and unpacking a unit of this size, you're starting to look at having quite the difficult task on your hands. Why not let Caledonia Removals help you with each step of the moving process? Our team can pack, lift, handle and unpack all of your items for you whilst providing the perfect sized storage unit for your needs.
125 sq ft storage units
These units would be the ideal solution for a three-bedroom house move. With the capacity of storing around 230 boxes, you'd be hard-pressed to fill this spaciously sized storage unit. You could also add some garden furniture or bulky kitchen appliances with the extra space available.
Having the ability to handle around three transit vans worth of stuff, our 125 sq ft units are a comfortable choice for most of our customers undergoing a big move or a lengthy home renovation.
150 sq ft storage units
Although you can choose to stretch yourself above this unit size, a 150 sq ft unit will be a suitable choice for most customers moving from a 3-4 bedroom house. You'll be able to comfortably pack in large appliances multiple pieces of larger furniture and still have space for over 200 boxes. What more do you need?
Well... if you feel like you require more space, we can accommodate that as well. We have units exceeding 200 sq ft to make sure all our customers are catered to, no matter how much space they may need.
Secure, simple and hassle-free
All of our units come secured for your personal item's safety. We operate with round the clock CCTV and provide padlocks or secure lock systems for every unit. The majority of our units are housed inside a warehouse, meaning you have double protection both from the elements and from any criminals who may try their hand.
Our team are knowledgeable when it comes to packaging, loading, unloading and storage, so any questions or queries you might have, we'd be more than happy to answer.
Caledonia Removals prides itself on offering friendly, local service at a cost that suits you. We can handle every step of the moving or storage process, from handling fragile items to unloading heavy furniture.
What is more, our units are designed to be flexible and cost-friendly. We offer rolling weekly contracts for your storage unit, meaning you can store your items for one week or one year and always be in control of your budget.
Get in touch
To arrange a removal service or book a storage unit, speak with our team today or leave an inquiry via our attached form. We look forward to handling all of your removal needs.